Welcome to the world
of your Dream and Nightmares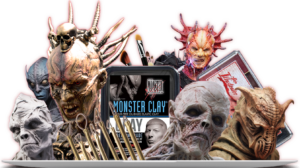 Whether you're a passionate beginner or a seasoned professional looking to expand your repertoire, our special makeup courses cater to all skill levels. Unleash your imagination, unlock your potential, and embark on a transformative adventure with the FX Makeup School in Prague. Enroll today and let your creativity take flight!
[short program]
Unlock the secrets of special makeup effects
Dive into the fascinating world of impressions, molds, sculpting, and working with silicone, prosthetic gelatin, and latex, with the Short Classes offered by our FX Makeup School.  This is your chance to acquire specialized skills in a condensed and immersive learning experience.
Our expert instructors, industry leaders in their own right, will guide you through the intricacies of creating stunning special makeup effects. From mastering the art of lifelike prosthetics to crafting intricate details, you'll learn the techniques that bring characters to life on the big screen and stage.
If you can not visit our school, we can travel and make a  Masterclass in your town.
Write us for more details.
Whether you are an aspiring artist seeking to take your first steps towards professional success or a seasoned professional yearning to expand your skill set and enhance your technical finesse, our meticulously curated offerings cater to your unique needs. Immerse yourself in a world of cutting-edge techniques, insider knowledge, and hands-on experiences, guided by industry experts who are passionate about nurturing talent and fostering growth. From foundational courses that lay a solid groundwork to advanced modules that push the boundaries of creativity, we provide the perfect platform to refine your craft and unlock new horizons. Join our esteemed community of artists, where passion meets innovation, and together, we shall elevate the art of special effects makeup to extraordinary heights.